One of the most common claims your boating customers will encounter is striking a submerged object and damaging an outdrive. Although such accidents are relatively safe for boat passengers and crew, they will require immediate repairs to the watercraft and often result in more extensive damage than what is immediately apparent to your customer. Striking something under the water can result in damage to the propeller, propeller shaft, gears, skeg (i.e., lowest point on motor/outdrive or keel extension), and, in more severe cases, damage to other portions of the drive.
Many boat owners may rush to replace the propeller, because doing so addresses the boat's most visible damage and gives them confidence to return to the water quickly.
However, replacing only the propeller may ignore additional damage "under the hood" that increases the risk of another accident.
Striking a submerged object can very easily damage a boat's propeller shaft and gears in addition to the prop itself. A bent shaft or a cracked gear may appear to be functioning properly but may later result in additional damage and downtime if it's not properly repaired. Even if only the propeller shows damage after striking a submerged object, it is recommended that an authorized dealer or repair facility inspect your customer's drive to ensure that the boat's machinery is still functioning properly.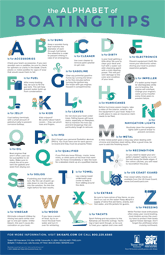 Your client's SkiSafe adjuster will also look out for these issues at the outset of the loss process so that they do not result in another claim or additional time off the seas. For helpful hints about boat safety and maintenance, refer to our "Alphabet of Boating Tips" infographic. To learn more contact SkiSafe at 800.225.6520 or quote online by selecting the Watercraft button on Tower Hill's RPM home page.
---
About SkiSafe. For over 20 years, SkiSafe has been providing coverage for more than 400,000 boats and jet skis nationwide. Watercraft is SkiSafe's specialty — from jet skis to yachts and sailboats, to tournament ski and bass boats. In 2014, Tower Hill partnered with SkiSafe to offer watercraft insurance to your Florida customers.