We've hosted a number of internet marketing seminars here at Tower Hill and at agent events, and most have focused on popular and emerging topics such as social media, SEO, and digital advertising. Without exception, I am approached by at least one attendee after each session and asked, "Enjoyed the presentation, and that's all fine and dandy, but where in the world do I start?"
It's a good question, and one rooted in the barrage of industry news and buzz focusing on the sexy stuff: Facebook, Twitter, pay-per-click ads, and legions more. Some agents may even be tempted to abandon their internet marketing efforts altogether in light of the perceived complexity and ever-changing landscape of the industry. The reality, however, is that these hot-button topics are merely internet marketing channels that are of little value if you haven't established a quality destination to which those channels should lead: your digital "home base."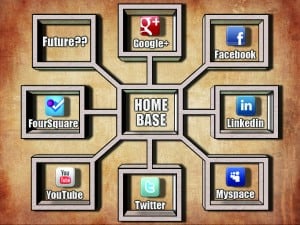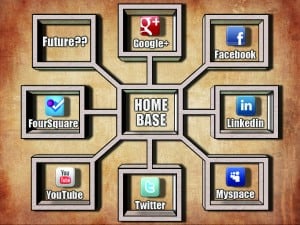 Visually speaking, your internet marketing strategy should look like a simple hub-and-spoke diagram, with your marketing channels – social media, advertising, email, etc. – at the end of the spokes. In the middle should reside the destination to which all these spokes should eventually lead.
In the vast majority of cases, particularly within the financial services and insurance industries, the hub – your home base – is your website. Most of you have one, some of you don't, and odds are a few of you have one but don't know you do. In all cases, you shouldn't even consider working on those spokes until you know your hub is in good working order and a worthwhile destination for your marketing channels.
For some agencies, their website is the centerpiece of their entire marketing strategy. For others, it's an afterthought, the offspring of "everyone else is doing it" mentality. For the latter group, remember this: a J.D. Power study found that 54 percent of consumers are turning to the internet first when shopping for insurance. That number will assuredly grow, and fast.
Accordingly, whether you have a mature, well-designed website with all the bells and whistles or are just starting out, here's a four-point plan for making sure your home base is where it should be:
A. Identify Your Audience(s)
Business owners and managers often assume that their website is all about the consumer, but that's only one piece of the pie. There are many types of people, and even systems, that will interact, directly or indirectly, with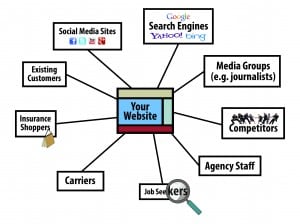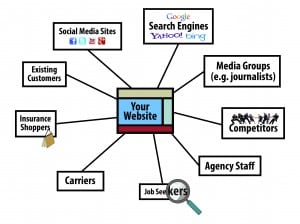 your website for their own reasons. Potential employees, for instance, are likely to visit your site for job openings or to get a grasp on your company's mission and culture. Google, on the other hand, wants to make sure their systems can read your site and add the content to their search results.
Take a moment to brainstorm about all the different audiences that will interact with your website one way or another. Here's a start:
Insurance Shoppers
Existing Customers
Job Seekers
Carriers
Agency Staff
Competitors
Media Groups (e.g., journalists)
Search Engines
Social Media Sites
B. Define Your Audiences' Wants and Needs
It's shortsighted to think about your website and say, "I want it to do this, and this, and this." Instead, put yourself in the shoes of each of your audience groups, and frame wants and needs from each of their perspectives.
Here lies a great opportunity to engage your staff, customers, and other audience representatives for an informal brainstorming session and ask them to tell you anything and everything they want your website to do and say. Some simple examples:
As a consumer, I want to submit relevant information about my risk and receive a premium quote from the agency.
As an existing customer, I want an easy way to send my agent a message or request.
As an agency principal, I want the website to educate site visitors on the competitive advantages my agency offers over other agencies.
As a CSR, I want to be able to refer callers and customers to commonly used documents available for download.
Write down everything, and then prioritize based on what brings true value to your business model and bottom line. Rank them top to bottom or, easier yet, just give each item a score from 1 to 10.
Prioritizing your wants and needs serves two purposes. First, it obviously gives you an initial framework with which you can assess your current website or plan your new one. Second, it gives you a comprehensive roadmap for your website's future. Remember, websites are dynamic, flexible creatures that can change and grow with time, so you're not obligated to launch with the whole kit and caboodle. Don't aspire, or expect, to create the website of all websites; create a website that meets the fundamental needs of your audience and accommodates future enhancements.
C. Find the Gaps
Take a look at your list; now take a look at your website. Are there high priority items missing from your website? If you don't have a website, this is a pretty easy endeavor – everything's missing. If you have a website, chances are some vital components are nowhere to be found. Make note of these.
Likewise, and just as important, are there low priority items taking up a disproportionate amount of real estate on your site? (Dedicated "Links" pages are a common culprit.) Make note of these as well.
List the gaps, list the excess, and put it all in a document or spreadsheet. Congratulations, you've got yourself a pretty detailed blueprint to pass on to your web designer/developer. And on that note . . . .
D. Find the Right Folks for the Job
Everyone seems to know someone who can put together a website – a moonlighting IT staffer, a kid that spends all day on the web, the babysitter's second cousin's ex-boyfriend. You can likely hire your freelance web guru on the cheap, but there are significant risks involved that hardly outweigh the savings. Does he or she really have the necessary skills and experience? Are they keeping up with the latest in technology and best practices? What recourse do you have if something goes wrong? What if the designer takes a demanding full-time job and no longer has time for you down the road?
In short, the one piece of advice I give anyone looking for someone to develop their website is engage a reputable digital design agency that knows what it's doing, and what you're doing. Quality design agencies, though difficult to find at times, have a team of experienced designers, developers, and marketers who are knowledgeable, responsive, and genuinely interested in your bottom-line results.
When you meet with your prospective design agencies in person (and you should), expect them to give you a brief pitch on their history, approach, and qualifications. If they spend the whole meeting talking about themselves, walk away. If they spend the whole meeting pointing out all the reasons your current website and marketing efforts are hopeless, walk away.  If they don't ask about your business model and what makes you money, walk away. This meeting is about you, your company, your bottom line, and your future, and the design agency should be just as interested in the topic as you are.
Get a feel for the agency and, if they pass muster, hand over your list of wants and needs. Ask them to estimate costs on a line-item basis. They might balk, but insist on it. You're probably not going to be able to afford everything at once, so a detailed breakdown will give you the opportunity to make some choices now and budget for later.
Happy home building. Have a question or a request for future topics? Worked with a design agency that you'd recommend? Feel free to post your thoughts in the Comments section below. . . .