At SkiSafe, our job is to help you provide your customers with the best and most competitive boat insurance coverage on the market. However, there are a few things you can advise your customers that will help keep their premiums down without compromising on coverage at all.
Here's a quick list of ways your customers can save money on their boat insurance:
Take a boating safety course.
Grow into larger vessels as they gain experience.
Maintain a good, clean motor vehicle driving record.
Choose as high a deductible as they are comfortable with. A higher deductible will offer considerable savings, which goes hand in hand with our next suggestion.
Maintain a loss-free discount by avoiding small claims. This will absolutely save your clients real dollars in the long run. Always report the incident, as your clients will have the option of withdrawing those small claims that can be handled out of pocket.
Take advantage of seasonal discounts! If your customers spend part of the year elsewhere or won't take their boat out during the winter, they are eligible for a sizable discount while laying the boat up. Coverage is still provided while the boat is in storage, but their annual costs will be significantly reduced.
Multi-Craft discount: If your clients have multiple boats, or a boat and a jet ski, they are eligible for an additional discount.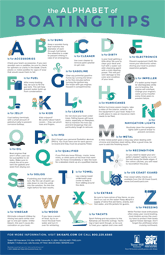 Of course, proper boat maintenance and always taking safety precautions are key. For helpful hints about boat maintenance and safety, refer to our "Alphabet of Boating Tips" infographic. To learn more, contact SkiSafe at 800.225.6520 or quote online by selecting the Watercraft button on Tower Hill's RPM home page.
---
About SkiSafe. For over 20 years, SkiSafe has been providing coverage for more than 400,000 boats and jet skis nationwide. Watercraft is SkiSafe's specialty — from jet skis to yachts and sailboats, to tournament ski and bass boats. In 2014, Tower Hill partnered with SkiSafe to offer watercraft insurance to your Florida customers.