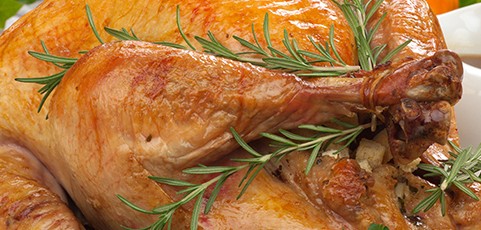 It's that time of year for all of us to count our blessings…and, our calories!
Thanksgiving…
It's the time for family reunions.
It's the one day that a bird gets pardoned by the President.
It's the time of year when we have a glass of wine while preparing the meal the night before…and then again before, during and after the actual meal.
"I'll have just more one another glass fleasze…"
It's the Macy's Thanksgiving Day Parade.
In a word: tryptophan.
It's the day we watch the Detroit Lions (since 1934) and the Dallas Cowboys (since 1966) host their respective match ups…on the couch…and, through our eyelids.
It's the day we let our kids roam wild around the house…because we can't muster enough strength to get up off the couch and see what mess they're getting into.
It's the day our eyes are bigger than our stomachs.
It's the day we don't mind the leftovers.
It's the day our diets go out the window…but, look forward to its return on January 1st.
It's the day we pay homage to Cool Whip©…and, MORE Cool Whip©!!! And, we might just serve it with pecan or pumpkin pie. I said, "might."
And, a second nap.
It is indeed the day for giving 'thanks' for all we have.
And, it is a day to share.
The following are a few 'good eats' that my mother, Virginia, has created over the years for our Thanksgiving Day dinner. As she put it, "some recipes that I have prepared for as long as I can remember."
Enjoy!
HERBED TURKEY BREAST
1/2 cup butter or margarine
1/4 cup lemon juice
2 tablespoons soy sauce
2 tablespoons finely chopped green onions
1 tablespoon rubbed sage
1 teaspoon dried thyme
1 teaspoon dried marjoram
1/4 teaspoon pepper
1 bone-in whole turkey breast (5 1/2 to 6 pounds)
In a small saucepan, combine the first eight ingredients, bring to a
boil. Remove from heat. Place turkey in a shallow roasting pan; baste
with butter mixture. Bake, uncovered at 325 degrees for 1-1/2 to 2
hours or until meat thermometer reads 170 degrees, basting every 30
minutes. Yield: 10-12 servings
SCALLOPED CORN CASSEROLE

1/2 cup butter or margarine
1/4 cup sugar
1 tablespoon flour
1/2 cup evaporated milk, undiluted
2 eggs, well beaten
1-1/2 teaspoons baking powder
2 pkg (10 oz) frozen whole kernel corn, thawed, drained
2 pimientos, cut in strips
Preheat oven to 350 degrees
Melt butter in medium saucepan. Stir in sugar and flour until well
blended. Remove from heat.
Gradually stir in milk. Add eggs and baking powder; mix well. Fold in
corn and pimiento. Turn into a buttered 1-1/2 quart casserole.
Bake 40 minutes or until golden on top and set in center. Makes 6 to 8
CRANBERRY COMPOTE
2 medium tart apples, peeled and sliced
1 package (12 ounces) fresh or frozen cranberries
1-1/4 cups sugar
1 cup golden raisins
1/4 cup orange juice
1 teaspoon grated orange peel
1 teaspoon salt
1/4 teaspoon ground allspice
1/4 teaspoon ground cinnamon
1 can (15-1/4 ounces) sliced peaches, drained
1 can (15 ounces) apricot halves, drained
1 cup chopped pecans
In a saucepan, combine the first nine ingredients. Bring to a boil.
Reduce heat, simmer, uncovered for 10 minutes or until cranberries pop
and apples are tender. Add peaches and apricots; heat through. Stir in
pecans, serve warm or chilled. Store in refrigerator. Yield: 6 cups
servings.
Wait…I almost forgot about BLACK FRIDAY!!!